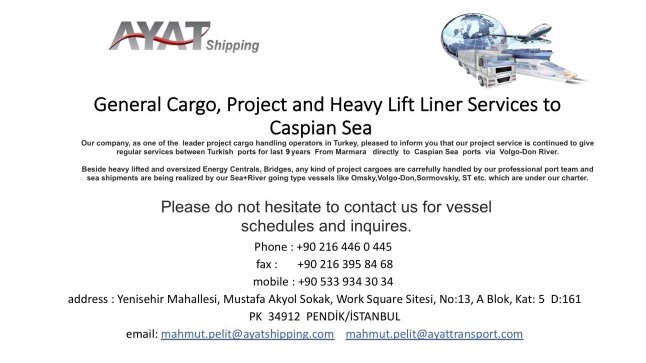 WE ARE READY TO CARRY YOUR TURKMENBASHI CARGOES BY OUR REGULAR AND PROFESSIONAL PROJECT CARGO SERVICE WITH MAXIMUM CARE !
Dear Customers ! in connection with your projects and signed contracts in Turkmenistan, our usual Project cargo service between Marmara - Turkmenbashı port is again starting to give regular services by the opening of Volgo-Don Canal to River navigation in the first week of April which will be continued till closing date of Canal at the end of October.
All shipments are realized by sea-river type vessels (they are designed to navigate even at sea and river) through the Volgo-Don Canal. Beside having direct service between Marmara – Turkmenbashi range , most advantegous factor is providing best and economic rates to the customers.